Since no reason to celebrate our wonderful zoo pals is too small, our animal-loving staff has remained busy all year long! From providing animal residents with extra special enrichment activities on their birthdays to featuring them in seasonal animal shows, our wonderful staff has ensured that our animal residents receive all the love and attention they deserve. "2022 was an incredible year for Animal World and Snake Farm Zoo," reflects Eric Trager, the Zoo's owner. "Since our animal residents mean so much to us, it was a true joy to celebrate these outstanding animals whenever the opportunity arose with our incredible, animal-loving guests all year long!" Since we have accomplished plenty of remarkable things and hosted ample celebrations throughout 2022, here is a quick recap on some of the events and celebrations that we are most proud of!
Reserve your tickets now to make memories with our amazing animals and staff!
Ample Animal Celebrations and Extraordinary Enrichment Activities!
Since we strive to make our animal residents feel as special as they truly are, our knowledgeable, animal-loving staff pounces at any and all opportunities to celebrate our outstanding zoo pals! One of the many ways we do this is by featuring an animal species every month and providing them with additional, celebratory enrichment activities. For instance, we honored our amazing Asian small clawed otters all September long. Throughout the month, our river otters partook in cooling forms of enrichment by playing with ice cubes and were showcased in our adorable "Otterly Awesome" show! Check out the informative graphic below for fun facts about the wonderful animal residents we featured over the past six months!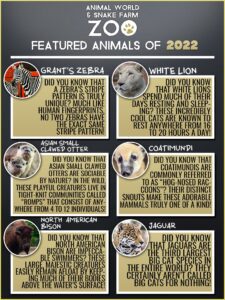 We also make sure to celebrate our phenomenal animals on their birthdays! While it can be difficult to keep track of the birthdays of our large collection of animals, our staff goes above and beyond in making our animal residents feel extra special on their special day! From sending birthday wishes to Klaus the dromedary camel on September 1st to celebrating our lioness Ngala's birthday on September 6th, our guests had the pleasure of participating in fun-packed animal parties all year long!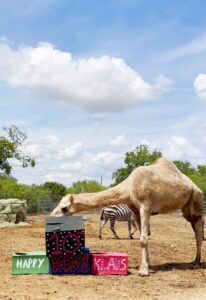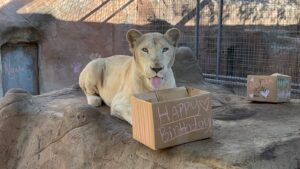 Another meaningful animal celebration recently came about when the Zoological Association of America (ZAA) awarded our zoo's Reptile Conservation Center during their annual award ceremony! Over the past several years, we have gone above and beyond in renovating our snake enclosures to ensure that our wonderful snakes feel as at home in their exhibits as possible. To learn more about our award-winning Reptile Conservation Center, check out this video.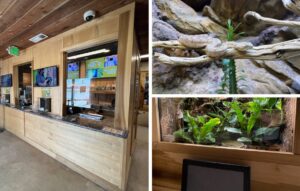 Exciting Renovations and Additions to The Zoo's Constantly Growing Family!
Here at Animal World and Snake Farm Zoo, our outstanding staff goes above and beyond in making sure that our animals feel special. Besides providing fun enrichment activities on a regular basis, we also prioritize our animals' happiness and well-being by ensuring they feel at home in their enclosures. Over the course of 2022, our primary renovation goal was building a whole new toco toucan exhibit equipped with an abundance of lush plants and countless other naturalistic features. While this renovation was one of the Zoo's main projects of 2022, we will continue to make animal residents' exhibits more authentic and naturalistic throughout 2023!
On top of these renovations and frequent animal celebrations, our staff stayed busy all year long as they warmly welcomed dozens of zooborns into the Zoo's steadily growing family! 2022 kicked off with the exciting births of two white lion cubs in January! In an effort to make these newborns feel like part of the family, we took to social media to announce them in March, and encouraged our followers to enter name suggestions in a naming contest. After close consideration, our staff went with a follower's suggestion to name the female cub Jaala and the male cub Uri! In March, our zoo's snake collection grew after the births of 18 Mexican west coast rattlesnake hatchlings. To end the month on an even cuter note, one of our Asian small-clawed otters gave birth to two pups! After launching a naming contest on our Facebook page for these absolutely adorable otter pups, our staff chose the winning names Frodo and Arwen.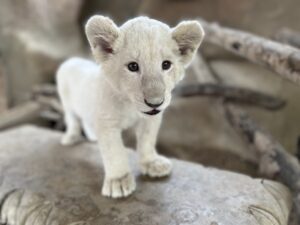 As spring came to an end, one of our clouded leopards gave birth to two precious cubs in the month of May! Since clouded leopard births are quite rare, we gave our social media followers the honor of potentially naming these captivating creatures in a naming contest. While there were many great suggestions in the running, our staff ultimately named the female cub Raya and the male cub Matahari. This exciting addition to the Animal World and Snake Farm Zoo family was quickly followed by the birth of several warthog piglets. In the final weeks of our spring season, guests could swing by our warthog exhibit to see these utterly adorable piglets playing and spending time with their mother! As summer came to a close, plenty of exciting animal births closely followed! In the month of August alone, our staff had the privilege of welcoming two dwarf crocodiles, a male bison calf named Teddy, and a female Patagonian cavy pup named Ginny.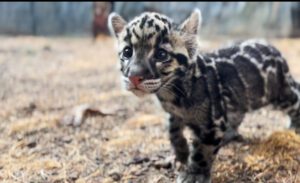 We also had plenty to celebrate all autumn long, from getting ready for our Halloween event to welcoming even more baby animals into the world! In September, our staff had their hands full with two newborn armadillo babies and one black mamba hatchling. More excitement ensued in November as our staff prepared for the Zoo's long-awaited Christmas event. During this month, we also extended a warm welcome to several Jamaican boa neonates! "We couldn't be more excited to welcome these Jamaican boa neonates into our growing snake family," shares Sam Wegman, the Zoo's lead reptile husbandry director. "While this snake species is rarely bred in captivity, our staff went above and beyond in making these extraordinary births possible."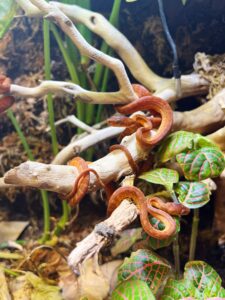 AWSFZ's Seasonal Events & Shows Are The Best Way To Celebrate Our Amazing Animals!
In addition to celebrating our animal residents on their birthdays and featuring one animal species every single month, our animal-loving staff also made sure that our zoo pals had the chance to partake in fun-filled, seasonal celebrations. A perfect example of this was our weekly croc shows! From late May to Labor Day, guests could swing by our zoo on Sundays at 3 o'croc for an entertaining, informative keeper talk. In addition to seeing one of our highly trained staff members feed our American alligators, guests had the opportunity to learn plenty of unbelievable facts about them! "Croc Show season has always been my favorite time of the year." shares Jarrod Forthman, the Zoo's deputy director. "It was an honor to host shows for fellow reptile lovers all summer long. On top of all this, these shows were an amazing opportunity to grow even closer to our zoo's crocodilians!"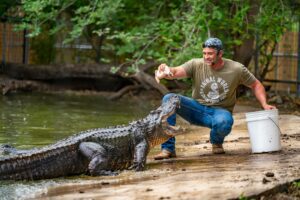 The first holiday celebration that our zoo had the pleasure of hosting in 2022 was our fun-filled Easter Egg-stravaganza! During the event, guests got to experience our animal residents partake in adorable Easter-themed enrichment activities. And that's not all! In addition to watching our animal residents enjoy extra special treats to their hearts' content, guests had the chance to participate in a basket-less Easter egg hunt throughout the park! Who needs the Easter Bunny when you can celebrate the holiday alongside a variety of amazing animals?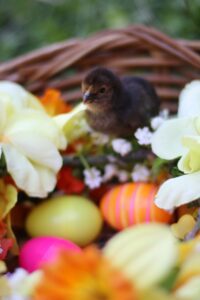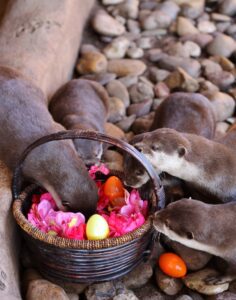 We may be a little biased, but our personal favorite way to celebrate the fall season is our zoo's spooktacular Howl-O-Ween Extravaganza! The event featured Halloween-themed, interactive animal shows and plenty of enrichment activities for kids and animal residents alike. As our animal residents indulged in delicious pumpkin enrichment, kiddos participated in ample trick-or-treating opportunities that encouraged them to come away with new knowledge and delicious candy! Such qualities make our event the perfect celebration for animal lovers who adore Halloween!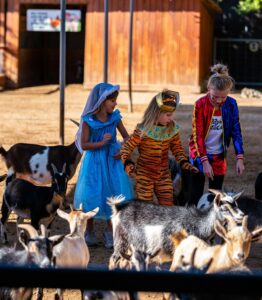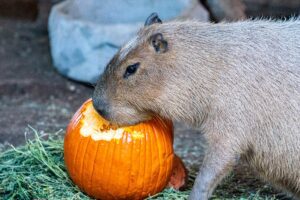 Another seasonal event that we recently had the pleasure of celebrating is our festive Christmas with the Critters event! The event has been a fun, truly unique way to celebrate the holiday season. In addition to the unique experiences our event provides, our Christmas with the Critters event boasts animal shows featuring our jolly animal residents and fun enrichment opportunities for guests and animals alike! Since our outstanding staff was able to transform our humble zoo into an immaculate winter wonderland, our holiday event was an immense success and undoubtedly succeeded in getting our visitors and animal residents in holiday spirits!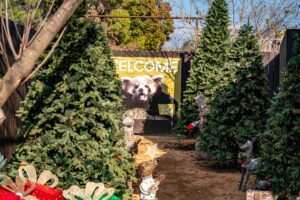 While these are just a few of the many celebrations we have hosted over the course of 2022, such events inspire our guests to consider AWSFZ as one of the best zoological parks in New Braunfels. In fact, many of our guests from all over Texas visit our zoo because of this. In recognition of this, here is an insightful blog that shares several fun things to do in New Braunfels after your next visit to the Zoo!
Start 2023 on a High Note With Some of Our Favorite Funny Animal Videos from 2022!
2022 was a year like no other, and we couldn't thank our animal-loving guests enough for continuing to support us! Whether you've visited us to marvel at our impressive array of snake species or couldn't wait to get up close and personal with one of our adorable fennec foxes, guests like yourself have allowed our remarkable animals to feel as special as they truly are. In recognition of this, we wanted to share our favorite funny animal videos and photos that were taken right here at Animal World and Snake Farm Zoo! Without further ado, we hope these videos from the Zoo's TikTok account bring smiles to your faces as you conquer the start of 2023!
https://www.tiktok.com/@newbraunfelszoo_awsfz/video/7163789605177707819?is_copy_url=1&is_from_webapp=v1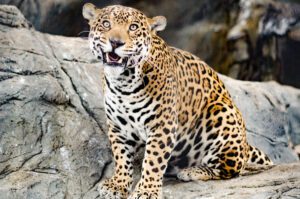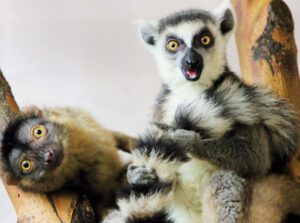 Put These Amazing Parks in New Braunfels At the Top Of Your List of Places To Visit in 2023!
Since many of our visitors make a considerable trek to New Braunfels to visit our quickly-growing zoo and amazing zoo pals, we want to share some other amazing places you can visit during your first trip of 2023! Our first suggestion is Landa Park, an outdoor park that is recognized as one of the best parks in New Braunfels. The 51-acre park is a beautiful place to spend an afternoon and boasts several fun attractions that are perfect for the kiddos, from a fun miniature golf course to two different playgrounds. And since this park is only a few miles away from Animal World and Snake Farm Zoo, you can end your day with a fun-filled zoo adventure packed with riveting animal interactions and informative animal shows!
While many of our guests come to our zoo to visit one of the most diverse snake collections in the entire country, they are pleasantly surprised by the abundance of care and loving attention our animals constantly receive. A prime example of this is our fun and educational animal shows, which feature interactive elements and amazing enrichment activities! These forms of enrichment vary depending on the time of year and what our animal residents enjoy most, so make sure to visit us whenever you can to watch our animals partake in all kinds of enrichment! Funnily enough, these animal shows also serve as great enrichment activities for kids, who are encouraged to see animals from all over the world up close and personal. Whether your child visits us during their next field trip or you and your family decide to spend the weekend with our animal-loving staff, our animal shows will undoubtedly inspire kiddos to develop a deeper appreciation of the world around them!
We hope to see you all at our upcoming educational animal shows. We can't wait to create more memories with you and your loved ones in 2023!
Follow us on Facebook to keep up with the adorable antics our animals get into on a regular basis!