It's no secret that Animal World and Snake Farm Zoo boasts one of the most diverse snake collections in the country. However, many of our guests don't know about the amazing animal activities we offer that highlight much more than our snake species. One of these activities is our animal encounters, which allow guests to get up close and personal with one of our 10 animal ambassadors. Whether you want to cuddle with one of our adorable fennec foxes or appreciate the natural wonder of our 10-foot Burmese python, there is sure to be an animal encounter that is perfect for you and the whole family!
Book an animal encounter today to develop an even greater appreciation of some of the animals that call Animal World and Snake Farm Zoo home!
Our Most Popular Animal Encounter Features Our Cutest Fennec Fox! 
As the smallest and one of the most adorable fox species in the world, our fennec fox animal encounter is unsurprisingly one of the Zoo's most popular animal activities. "The Zoo is home to plenty of awe-inspiring animals, so it can be hard to choose just one favorite," says Emily Jaffe, the Zoo's Operations Director. "But if I had to choose, I would go with our fennec foxes! From their soft fur coats to their adorable faces, what's not to love?"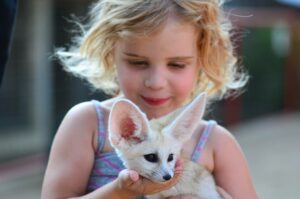 While our fennec foxes are undeniably a fan favorite here at the Zoo, the individual that our visitors often recognize as our cutest fennec fox is Joe. Joe is a male fennec fox who celebrated his fourth birthday along with his sister Janet over the summer. These two young, adorable foxes were welcomed to the Zoo in 2018, and their presence brought our fennec fox numbers from two to four. Ever since, our adult foxes Fergie and Freddy have embraced these little ones with open arms and have raised them as their own. Learn more about this adorable fennec fox family during a fun-filled and informative fennec fox animal encounter!
Come For Our Adorable Fennec Foxes And Stay For Our Riveting Alligator Adventure
Although the Zoo is best known for its Snake Farm roots, many guests gravitate to furry animal residents like our fennec foxes. In order to ensure that our facility truly has something for all kinds of animal lovers, we provide a variety of fun-filled outdoor animal activities that any and all animal enthusiasts are sure to love. For instance, our fennec fox animal encounter typically features our most personable, cutest fennec fox. During this encounter, guests can get up close and personal with our fennec fox animal ambassador while learning all kinds of compelling facts about them! 
One of our favorite fennec fox facts is that they are quite sociable animals that live in tight-knit groups of up to 10 individuals. Studies have even shown that these foxes adore social interactions and continue to engage in lighthearted playtime into adulthood. Another compelling fact about the fennec fox that you are sure to learn more about during your animal encounter with them is how this fox species rarely needs to drink water! This is primarily because the species is native to the hottest desert in the world and is used to going long periods of time without drinking water.
Another popular animal encounter the Zoo has to offer is our American alligator adventure encounter. While many of our guests prefer our furry, personable residents, many others come to the Zoo to appreciate the natural wonder of our scaliest animal ambassadors up close. Once guests experience animal activities with these formidable creatures, they often come away with an even greater appreciation of them. "Our animal encounters offer unique, personable interactions between our guests and our animal residents. There is no better way to learn about an animal than to have a shared experience with them," says Jarrod Forthman, the Deputy Director at the facility. "After all, nothing sparks human curiosity like interaction."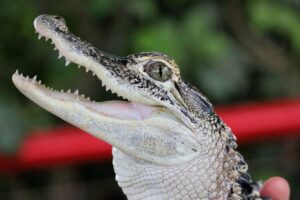 This Picture of a Lemur Will Make You Want To Meet These Little Guys in Person!
Another fun-filled animal encounter we offer here at the Zoo highlights our common brown lemurs and red ruffed lemurs. While the ring-tailed lemur is one of the most recognizable and popular lemur species, we chose to dedicate animal encounters to our two other lemur species to spread love and appreciation of these equally wonderful animals to our guests. When you book either of these lemur animal activities, you are sure to learn all kinds of fun facts about them while discovering first-hand just how adorably quirky these little guys are. Although images of these animals rarely do them justice as the complex, intelligent creatures they are, this funny and cute picture of a lemur embodies their cheerful, fun-loving personalities.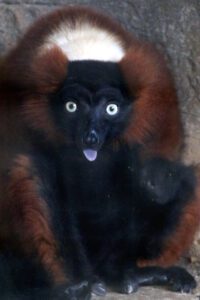 More Fun Facts About Our American Alligators, Fennec Foxes and Lemurs
Before wrapping up this fun and informative post about our animal encounters, we would like to leave you with a few more fun facts about the three animal species we have already discussed. In doing so, we hope to provide additional compelling knowledge about these amazing animals and encourage you to book an animal encounter to learn even more about them! Let's begin with a fan-favorite animal resident: the fennec fox. One of the most adorable, heartwarming fennec fox facts is that this fox species is monogamous and mates for life. To make this fact even cuter, it has been reported that male fennec foxes will bring their female mate food and protect her from danger for the duration of her pregnancy.
Now here are a few of our favorite American alligator facts! Did you know that the American alligator has existed in its current evolutionary form for approximately 84 million years? To put this in perspective, dinosaurs went extinct 65 million years ago. Talk about an alligator adventure! Another fun fact about the American alligator is that, unlike most reptiles, they nurture by nature and raise their offspring for the first two years of their lives. Finally, here are some amazing lemur facts! Did you know that there are over 100 different lemur species? These species vary drastically in shape and size, ranging from 1.1 ounces at their smallest to 14.3 pounds at their largest. In rare cases, indri lemur individuals have been noted to weigh closer to 20 pounds! Another cool fact about lemurs is that they help maintain forest diversity in their natural habitat by moving seeds and pollen from one area to another. Much like how bees pollinate flowers, lemurs help to pass seeds and pollen to other flowers and areas of their environment.
These Cute Skunk Pictures Will Definitely Make You Want to Meet Our Skunk in Person!
For the sake of keeping this post short and sweet, we specifically focused on three of the animal encounter activities we have to offer. However, we want to leave you with some more information about one of our most misunderstood animal ambassadors: our striped skunk! While it can be difficult to look past the stinky odor these animals omit when threatened, they can actually be quite cute. Did you know that skunks do a little warning dance before they spray their scent? This cute, complex dance is primarily done to ward off potential predators and in an effort to avoid spraying by all means necessary. Here are some cute skunk pictures to hold you over until you can meet this little guy in person!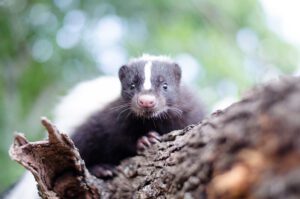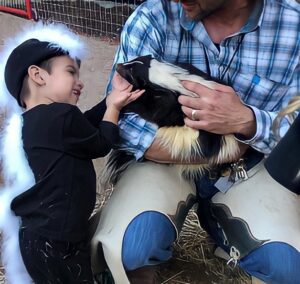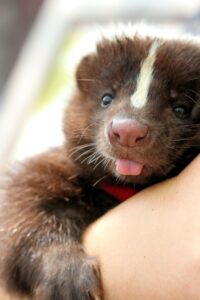 Make sure to visit these amazing animals during your next visit to the Zoo. Reserve your tickets here!