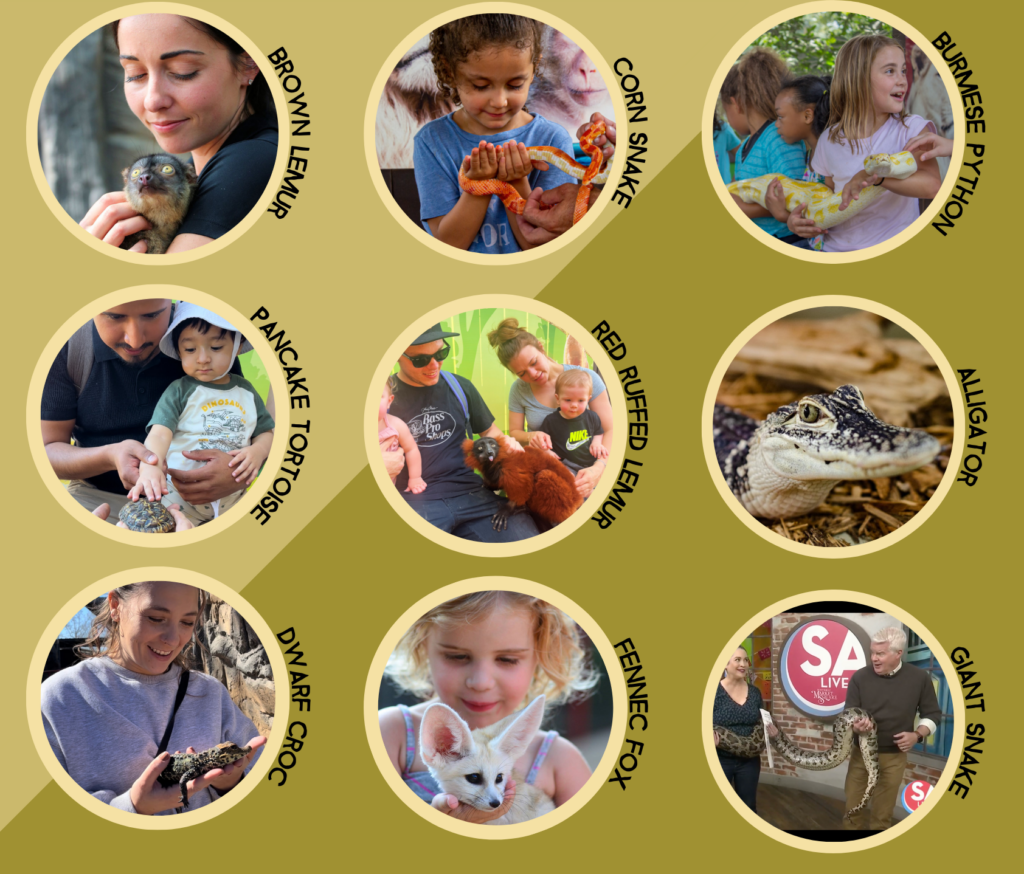 Want to get up close and personal with some of your favorite Zoo residents? Book an animal encounter for an experience of a lifetime for you and your loved ones!
Our animal encounters are focused on the importance of conservation while encouraging compassion for Mother Earth. Through these hands-on encounters, we strive to make real-world connections for our guests with the use of our animal ambassadors. There is no better way to connect with our residents than getting to spend one on one time with them and their zookeeper. Your appreciation for our natural world is sure to grow as you watch how agile our lemurs are as they scamper around your lap, feel how soft and gentle our resident fennec foxes are, or look in the eyes of one of our baby capybaras as you hand them their favorite treat.
Make memories that will last a lifetime by meeting Joe our fennec fox, Tilly the brown lemur, Enzo the capybara, Waffles the pancake tortoise, and many more!
Exclusive Capybara Encounters
Unlike other capybara experiences in Texas, you will actually be able to feed and pet our three babies Enzo, Katie, and Kiwi! You will also be able to take all the photos and videos you would like. We actually encourage it! We don't want you to miss a second of your epic experience and want you to take these amazing memories home with you.
Meet The Animals!
Fennec Fox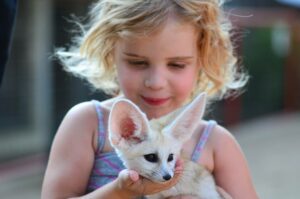 Meet either Joe or Jannet, our adorable fennec foxes during your next visit to the Zoo! Their petite size and giant ears are sure to make you fall in love with them. During your encounter you will get to hold one of these incredible foxes and learn all about them from their trained zookeeper! 
Capybara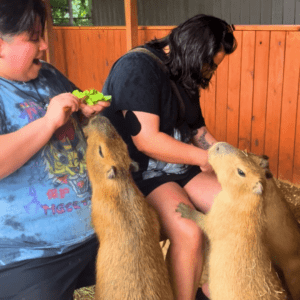 Enter the pen of Kiwi, Enzo, and Katie capybara to have the experience of a lifetime! Your personal zookeeper guide will teach you how to hand feed these baby capybaras some tasty treats. You also will get to pet them and of course we have to mention… They love belly rubs! 
Red Ruffed Lemur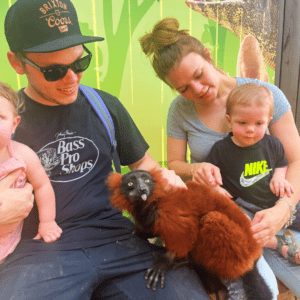 Meet our incredible red ruffed lemur, Chilli and watch her leap and crawl around you during your next epic animal encounter! Chili is a very inquisitive lemur and is known for her gentle demeanor. If you are lucky, our keepers may even be able to show you the incredible vocalizations that these lemurs are so well known for! 
Brown Lemur 

Tilly our brown lemur is considered to be a favorite amongst the staff here at the Zoo! From the adorable oinking noises that she makes, to the way she tends to hold the hands of the guests meeting her. Nothing will make you appreciate the wild like looking into the golden eyes of Tily, the brown lemur. We know we appreciate her every day! 
Pancake Tortoise
Looking for a brunch themed encounter today? While we don't serve breakfast here at the Zoo, we can definitely fill you up with joy during your encounter with Flap Jack or Waffles our pancake tortoises! These tortoises, known for their incredibly flat shells, are sure to impress you with just how well adapted they are to survive in the wild! 
Giant Snake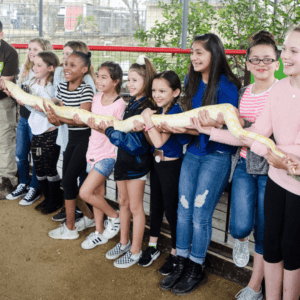 Get in touch with your wild side during an interactive encounter with Hercules or Meg the Burmese python! Since it takes two whole reptile specialists JUST to carry these massive snakes, we encourage you to bring as many reptile lovers to this encounter as you want. This is definitely the most sizable encounter we offer, and we are sure Meg and Hercules will impress your whole group with just how incredible they are!
Burmese Python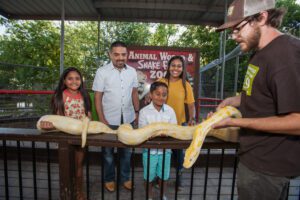 Simon and Leo, our Burmese pythons, are known for convincing our guests that snakes are not so bad after all! These gentle giants are a great way to introduce those who may be a bit shy towards snakes to these scaly creatures. Nothing beats a picture with you and your loved ones holding a snake at The Snake Farm itself! 
Corn Snake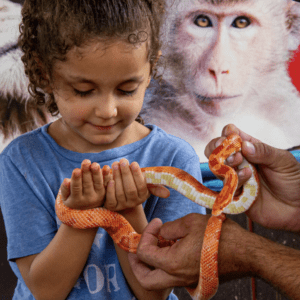 Looking for a beginner snake to learn more about these incredible reptiles? Ruby, our corn snake, may be just the snake for you! Although she is small, she is beautiful in coloration and has many adaptations that our handlers will tell you all about! This is the perfect encounter for younger kiddos that want to be brave and whole a snake all by themselves! 
Alligator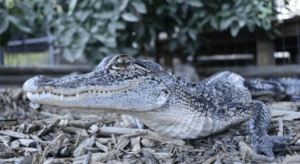 If you have ever seen one of our epic croc shows, you are probably anxiously awaiting a chance to meet a gator of your own. Ali, our American alligator, is one of our reptile staff's absolute favorite animal ambassadors here at the Zoo! From her strong tale and scaly armor, to her personality traits that make her one of our favorites, Ali is an animal you do not want to miss meeting here at the Snake Farm!
Dwarf Croc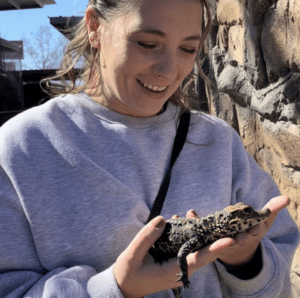 Snip and Snap are our two baby dwarf crocs here at the Zoo! Our keeping staff is incredibly proud of these little guys as they are quite rare to have been born in human care. Along with learning all about how the birth of these two is important to their species as a whole, you will get to see just how adorable even our scaly animals can be. 
Animal encounters include
A private encounter with a zoo keeper and animal ambassador of your choosing
Pricing
$50 for the first person, $25 for each additional person (admission to the Zoo is not included).
Our epic GIANT SNAKE encounter starts at $100 for the first person and $25 for additional individuals.
Participants must be 13 or older. Anyone under 13 must be accompanied by a paying adult.
Frequently Asked Questions
Can we take photos during the encounter?
Absolutely! We encourage all parties to bring a cellphone or camera!
Do we get to hold the animals?
That all depends on which animal ambassador is selected! Though all encounters are hands-on opportunities, some animals are comfortable being held while others are not.
How early should we arrive?
We ask that you show up 15 minutes early, that way you have plenty of time to park and purchase your admission tickets.
Can my service dog come?
Service dogs may come into the Zoo, but they are not permitted to join the animal encounter for the safety of the animal ambassadors.
---