Looking for things to do in New Braunfels? You have come to the right place! From finding romantic evening activities to that perfect outing for the whole family, we have listed it all. You can find some of these attractions here at Animal World and Snake Farm Zoo!
Three Fun Things to do in New Braunfels
Out of all the fun things to do in New Braunfels, these are our top three favorites! Below we have laid out these awesome activities for you, along with all the fun details you need to start planning your visit.
Animal World and Snake Farm Zoo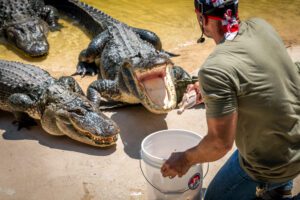 Have you seen a cobra, jaguar, or alligator? Well, if you haven't, or even if you have, get yourself over to Animal World and Snake Farm Zoo! We are experts at giving visitors their first experiences viewing these incredible creatures. While you're here, have a blast meeting animals such as Sniffs our hyena and Ngala our white lion. Out of things to do in New Braunfels, we of course can't recommend the Animal World and Snake Farm Zoo experience enough!
Gruene Historic District
Interested in spending a day with your family exploring a historic city that was once considered a ghost town? Anxiously awaiting your next candy bar from a classic-style general store? If any of these are true, Gruene Historic District is the place for you! From their fantastic general store to the quaint storefronts and shops, there is so much to explore and learn about at this one-of-a-kind location. It truly is a blast from the past!
Comal River
If you're looking for something to cool you down on one of our hot Texas days, go down to Comal River, grab a float, and relax! This is a great way to stay cool in the summer months as well as the perfect combination of relaxation and adventure. Not too crazy about swimming? That's no problem at all! Tons of visitors enjoy laying a towel down to sunbathe on the beach or entertain themselves by looking for local wildlife right off the shore. Throw all your water gear in the car and head on down to Comal! Don't forget to pack sunscreen!
Three New Braunfels Attractions
Out of all the New Braunfels attractions we chose from, these are our top three favorites. From flinging yourself down water slides at Schlitterbahn Water Park to pulling in for a nice drive-in movie at Stars and Stripes Theater, there is so much to do. This list includes by far the best combination of wild and relaxing things to do in New Braunfels!
Animal Encounters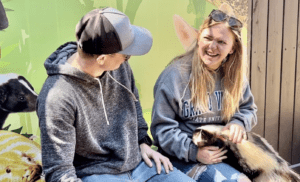 If just visiting wasn't enough, at Animal World and Snake Farm Zoo we offer animal encounters for our guests! If you decide to make an encounter reservation, you can look forward to getting to learn about, view up-close, and take pictures with the animal of your choosing. Animals available for this visit range from lemurs to fennec foxes. You may even get the opportunity to hold and pet the animal you decide to meet! Getting to pet one of your favorite animals of course tops our list of fun things to do in New Braunfels!
Water Park
Schlitterbahn Water Park is reviewed as being a place the whole family can enjoy and as one of the most fun places in New Braunfels. Cool down in their wave pool or grab a bite to eat or a beer to drink while walking around the park. If you are feeling adventurous, you can even ride one of the world's longest water slides that runs between the two parks they offer! Maybe leave anyone too shy of adventure by the kiddie pool…
Drive in Movie Theater
Considered a top first-date location in the New Braunfels area by locals, Stars and Stripes Drive-In Movie Theater is not to be missed! This unique theater is branded as one of the best things to do in New Braunfels for couples. Impress your date with a romantic film and a beautiful view of the starry night sky right out your moon roof. If you play your cards right, you might just get that second date!
What Do You Think About These Things to do in New Braunfels?
After sticking with us to review all these exciting and exotic places in New Braunfels, what do you think? Let us know how your adventures go, especially if you come out to see us at Animal World Snake Farm and Zoo. Have fun, and stay safe exploring this incredible city!