Oftentimes, the best way to encourage students to learn about a particular topic is to let them learn about the topic in a highly interactive, hands-on setting. Because of this, a zoo field trip can be an optimal way for young children to not only learn about various animals but to come away with a greater appreciation of these wonderful creatures and the world they inhabit. Since education programs that focus on the importance of conservation are one of our top priorities, we sincerely hope that you hold your next field trip at Animal World and Snake Farm Zoo!
Reserve your tickets now to learn more about the abundance of animals that call Animal World and Snake Farm Zoo home!
Great Field Trip Ideas For Elementary Students
While it can be easy to overlook the importance of field trips, these academic adventures are paramount in students' development since these field trips encourage students to think critically about the world around them. Field trips also let students engage with topics that can be difficult to conceptualize within the limited confines of a classroom. Since field trips often allow students to engage in less conventional curricula, they can even motivate students to develop extracurricular interests that may lead to long-lasting careers. However, it can be difficult to perpetually think of new educational experiences that will challenge students while peaking their interests. In hopes of making upcoming field trip decisions a little easier, here are a few field trip ideas you should consider in the near future.
We may be a little biased in saying this, but our top recommendation would certainly be a zoo field trip! Such field trips are greatly beneficial for young children since these excursions allow them to fully conceptualize and even interact with wonderful animals they may have only ever seen in pictures, videos, or storybooks. Zoo field trips will also inherently teach students that animals deserve to be treated with respect. Some other great options that will similarly encourage students to expand their mindsets are field trips to places like art museums and planetariums. These educational settings prioritize visual forms of learning and are ideal places to visit on field trips since they motivate students to directly engage with compelling ideas beyond the classroom. 
Field Trips in San Antonio That Encourage Students To Appreciate The World Around Them 
Since there are plenty of fun field trip opportunities across the state of Texas, we wanted to focus on some of the best places you can go on field trips in San Antonio. Needless to say, historical landmarks such as the Alamo can be great educational settings where students can conceptualize the region's extensive history— despite not living through it themselves. Some other amazing field trip ideas in San Antonio that serve as interactive ways for students to learn about Texan history include the San Antonio Conservation Society Library and the Texas Transportation Museum. While these three field trip options are better suited for older elementary students, they provide enriching opportunities for students to comprehend just how different the past was from the present day. For instance, students who visit these educational settings on field trips often come away with a deeper appreciation of the modern amenities they take advantage of on a daily basis, from their cell phones to the cars their parents drive.
As mentioned previously, a great option for animal-loving students is a zoo field trip! While zoos are guaranteed to be fun for the whole family, we highly recommend zoo trips as incredible field trip ideas for kindergarten students in particular. While there are plenty of zoos that are local to the San Antonio area, we sincerely believe that New Braunfels' own Animal World and Snake Farm Zoo is uniquely suited for educational experiences. Besides boasting one of the most diverse snake collections in the entire country, a surprising array of animal species also call the Zoo home— from furry residents like our fennec foxes and African white lions to scaly residents like our alligators and crocodiles.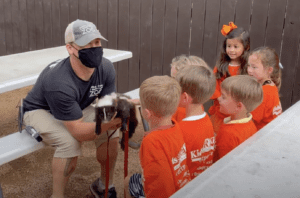 Field Trips in Austin and San Antonio That Are Both Fun And Educational! 
If you and your students live closer to Texas' capital, here are a few great options for invaluable field trips in Austin! Since Austin is home to a diverse offering of both fun and educational activities, we will now direct our focus to field trip ideas for kindergarten students. One of our personal favorites that we often recommend to guests who are local to the Austin area is the Austin Nature & Science Center! In addition to boasting several field trip packages that allow students to take in nature's inherent beauty, the Austin Nature & Science Center offers various instructor-led programs on a wide array of topics— from arthropods to natural environments and even paleontology. Similar to a zoo field trip, an educational visit to the Austin Nature & Science Center is sure to encourage students to critically consider various topics in a hands-on manner that the typical classroom simply cannot cultivate. 
Another great option for teachers who are looking for interactive options for field trips in San Antonio is The DoSeum! Like its name may imply, The DoSeum is a highly interactive museum that offers fun and educational experiences as students directly engage with various exhibits that highlight academic topics like STEM, language arts, and the visual arts. As fellow commendable educational settings, we cannot recommend visiting these various institutions enough as fun field trips in San Antonio and Austin alike.
AWSFZ Field Trips Are Also Perfect For Texas Home Schools
Many optimal educational settings that vary from the traditional classroom forget that field trips are just as important for students of Texas home schools as they are for students who attend public and private schools. However, our staff at Animal World and Snake Farm Zoo recognizes this! Consider scheduling your next field trip with our informed, animal-loving staff at AWSFZ; your students will undoubtedly thank you for it!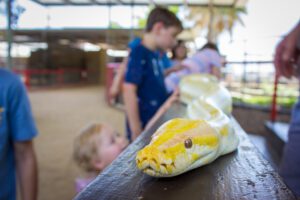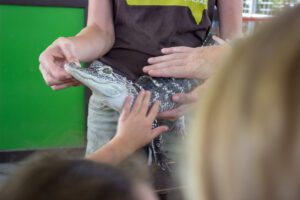 Follow us on Facebook to stay up-to-date on the various seasonal events the Zoo has to offer!