Let's get down to business and discuss these fall activities Austin, San Antonio, and New Braunfels families will love this coming season! From spending HOWL-o-ween weekend at Animal World and Snake Farm Zoo to watching spooky movies at the Alamo Drafthouse, we've got it all laid out for you!
Last chance to book your tickets to come out and see our summer season shows!
Autumn's Fall Equinox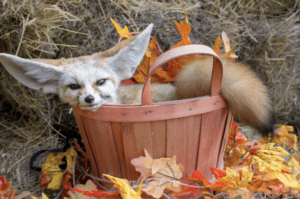 Wondering when Autumn's Fall Equinox, also known as the start of fall, is? Can't wait any longer for your pumpkin spice favorites? Well, you are in luck as it is just under a month away! Thursday, September 22nd, 2022 will mark the Autumn Equinox in the Northern Hemisphere. Not long to wait! Do you have any favorite fall traditions with your family?
Texas Free Fall Events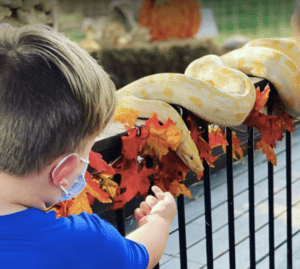 The time has come for us to list our favorite Texas free fall events and offerings!
HOWL-o-ween at Animal World and Snake Farm Zoo
We may be a little biased about our first item on this list… but it is by far our favorite. This action-pact Halloween event is sure to make you have a good time, and even learn something! The weekend prior to Halloween here at Animal World and Snake Farm Zoo we stack our facility with candy and host our own trick-or-treating! We also change our animal shows, that can be viewed every thirty minutes, to be Halloween themed and have a creepy crawly station where you can get up close and personal with some wild little crawlers! Best of all, kids get in free when they sign-up and arrive in costume! Keep a lookout on the Animal World and Snake Farm Zoo website for updates coming soon! Of course this is our favorite option for Texas free fall events for the kiddos.
Some Free Events in Austin!
There are a couple of free events in Austin, Texas that we look forward to each year. The Community Pumpkin Carving  is one of our favorite fall events Austin side! Get together with your family to create your spookiest jack o'lanterns! They also offer s'mores to satisfy your sweet tooth! Another great Austin event to keep your eye on is the Austin Fall Harvest Vendor's Market. From clothes to handmade goods, you can find everything fall themed at this incredible market. If you are not looking to spend any money, it is also a great place to window shop and get ideas for creating your own autumn and Halloween decorations! 
Alamo Drafthouse Halloween Movies!
Every October, Alamo Drafthouse Cinemas hosts throwback horror and Halloween themed movies. From recent films to old favorites they show it all. This is a great way to chill out on fall nights with the family, or go out for draft beer and scary movies with friends. Find showings at the Alamo Drafthouse near you!
Now that we have reviewed our favorite Texas free fall events, do any look exciting to you? We know we can't wait to see you here at Animal World and Snake Farm Zoo for our Howl-o-ween Extravaganza! As we get closer to that first day of fall 2022, make sure you keep an eye on these events as more information starts to come out!
Can't wait till October to come out to see our animals? Grab your tickets now and come see us today!
=