Summer is a great time for families to spend quality time together. Whether your family loves going on summer road trips or prefers to solely explore everything central Texas has to offer, we have plenty of fun suggestions for you to choose from! Since many of our guests visit our zoo from all over the state, we wanted to take this opportunity to highlight some of our favorite family-friendly things to do in New Braunfels. The small city we are based in has much more to offer than our full-fledged zoo, and we can't wait to share these wonderful destinations with you! Who knows— they might become a regular part of your family road trips through central Texas!
Celebrate the beginning of summer with us at the Snake Farm! Book your tickets today!
Slither by Animal World & Snake Farm Zoo For a Wild Afternoon
This may go without saying, but our favorite New Braunfels activity is spending time with the amazing animals that call Animal World & Snake Farm Zoo home! While you may know us for our Snake Farm roots, our zoo is also home to a wide variety of mammals, primates, reptiles, and more! And if you're hoping to meet some of our animals up close and personal, you can book a private encounter with one of our 10 animal ambassadors. Whether you have always dreamed of hand feeding a majestic camel or want to handle Hercules our GIANT Burmese python with the whole family, there's something for you at the Zoo!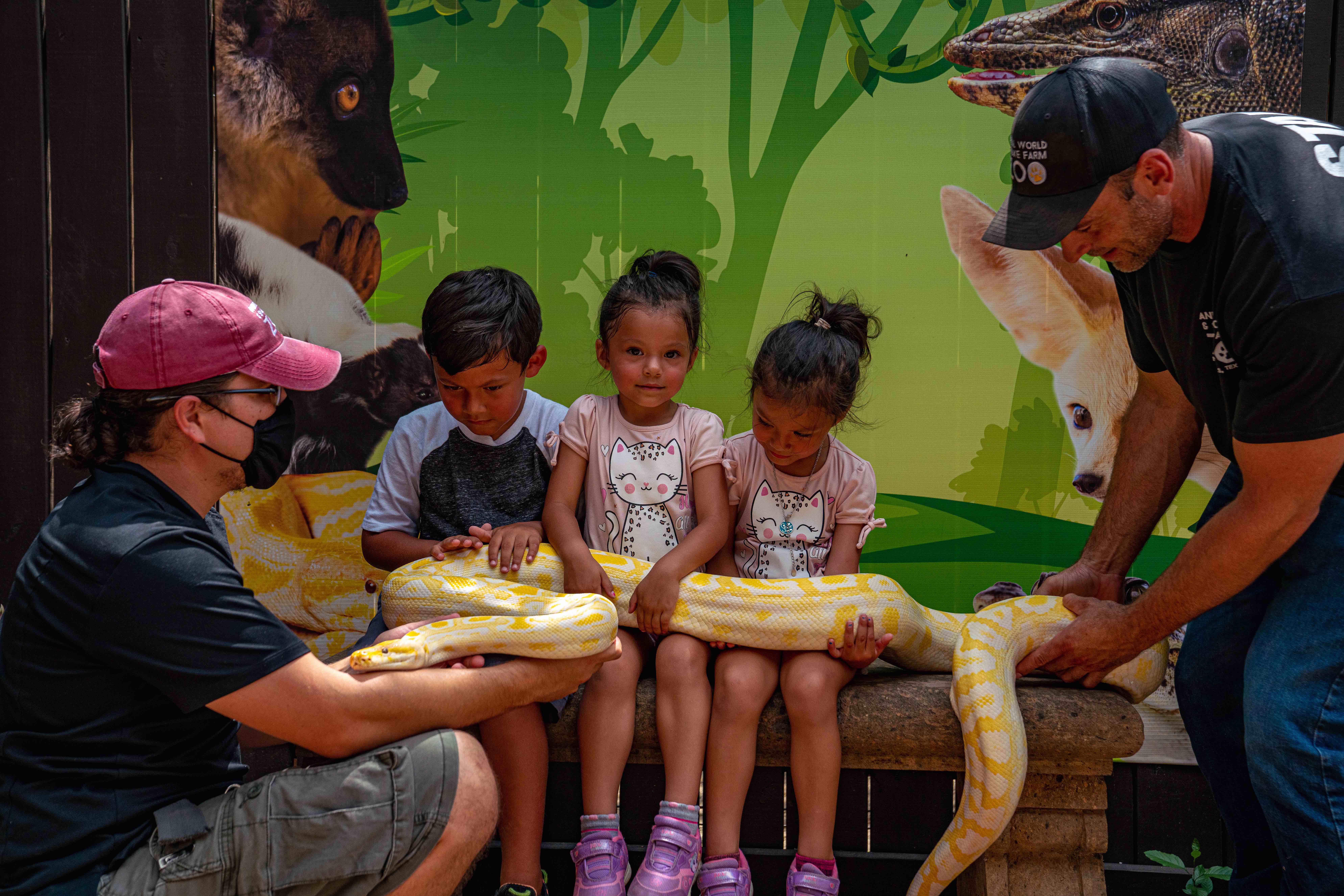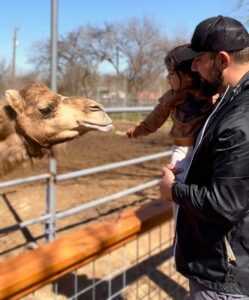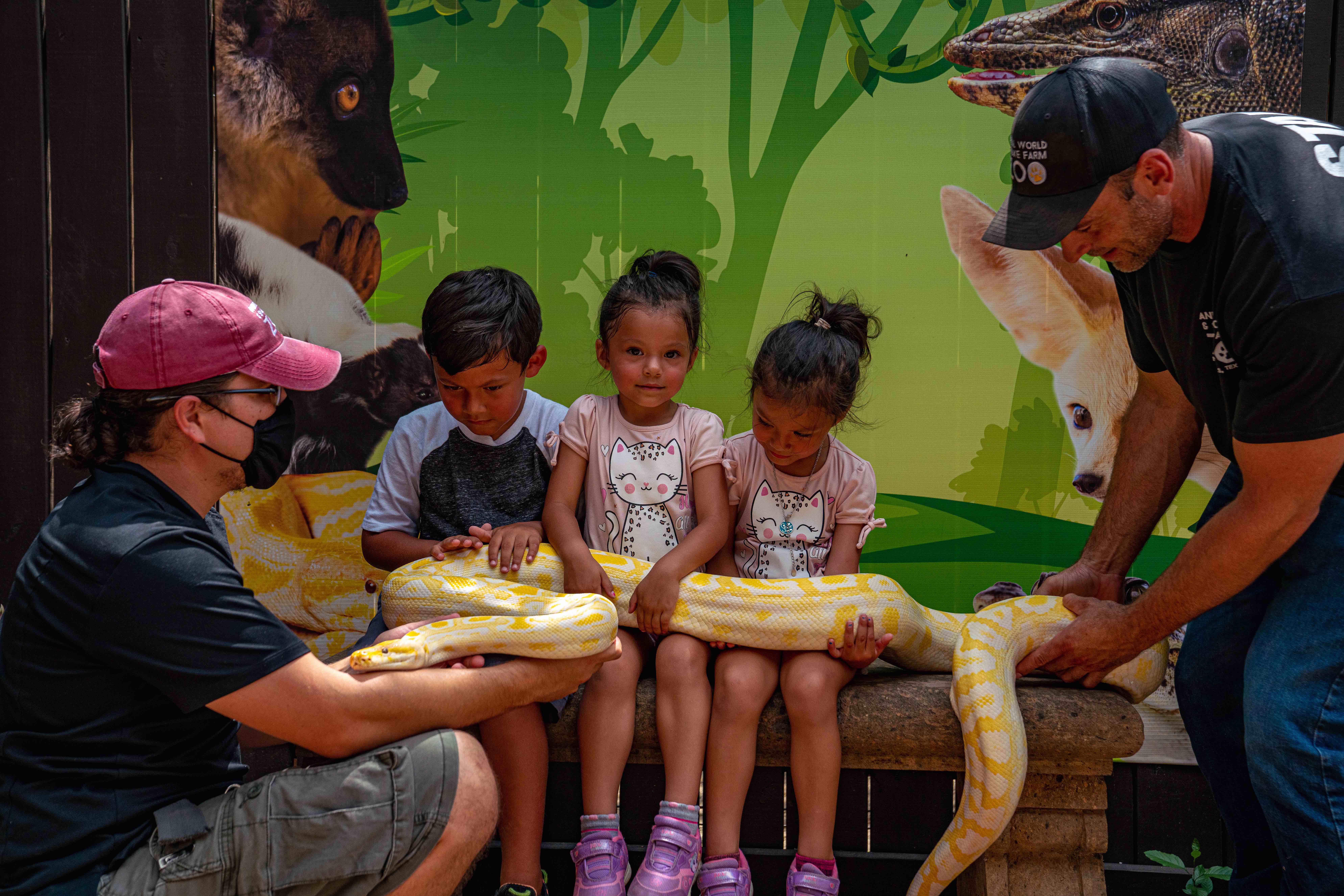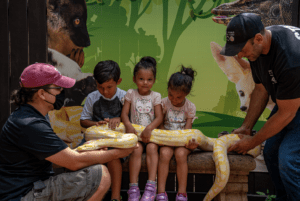 Another thing that makes our zoo unique are our famous summer Croc Shows! During these shows, our knowledgeable reptile specialists hand feed raw chickens to our largest crocodilians. To make these shows even more exciting, we give kiddos the opportunity to join our epic Croc Squad! Follow us on Facebook to find out how you can enter to win this once in a lifetime opportunity for your child.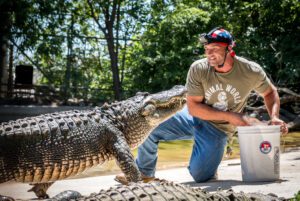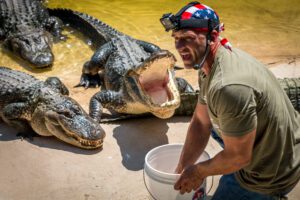 Now that we have told you all about what to expect at the Zoo this summer, here are some other great things to do in New Braunfels with the whole family!
Discover What Makes Downtown New Braunfels Unique Through Exciting, Interactive Activities! 
Since Animal World & Snake Farm Zoo is located just off IH-35 South, it can be easy to spend a few hours at the Zoo and briskly move on to bigger cities like San Antonio. However, New Braunfels has a lot more going on than you might think! If you only ever find yourself in our small city to hang out with our wonderful Snake Farm Zoo animals, here are a few other things to do in New Braunfels after your next trip to the Zoo!
A great place to explore the longstanding history of downtown New Braunfels is the scenic Gruene Historic District. Often described as the perfect mix between preservation and progress, Gruene (pronounced "green") is a must-see for people visiting from outside the area. Since Gruene boasts plenty of antique shops, Texas-style restaurants, and even the oldest dance hall in Texas, there's sure to be something for the whole family. In fact, tourists from all over the world agree that it's hard to run out of fun things to do in this picturesque, postcard-worthy town!
Another incredible way to discover all New Braunfels has to offer is going on a thrilling scavenger hunt through the city! While there are many different scavenger hunt options to choose from, we would recommend Let's Roam's New Braunfels Boot Scootin' Scavenger Hunt. This activity is entirely self-guided, so you can explore the city at your own pace and take extra time to admire New Braunfels' hidden gems and historic landmarks with the whole family. Since this walking tour encourages kiddos to discover New Braunfels in a whole new light, this city-wide scavenger hunt is one of the best things to do in New Braunfels with kids! Make lifelong memories and take stunning pictures beside historic landmarks during your stay in New Braunfels— at the Zoo and beyond!
Keep Your New Braunfels Adventure Going With These Fun-Filled Outdoor Family Activities Near Me 
Before this blog comes to a close, we would like to share a few extra things to do in New Braunfels to make your trip to this small city even better. After you spend some time with charming Snake Farm Zoo animals like Klaus the dromedary camel and Gracie the charismatic umbrella cockatoo, keep the excitement going by visiting the historic Faust Street Bridge! The bridge was built in 1887 is among one of the last wrought iron bridges to be built in the state of Texas. The Faust Street Bridge is formally recognized as a Texas historic landmark since it is made up of a unique combination of Pratt and Whipple truss bridge types. Since this area is open to the public, you can make an afternoon trip out of it by fishing, picnicking, and even kayaking along the Guadalupe River in downtown New Braunfels!
After visiting us here at the Zoo and browsing dozens of charming downtown New Braunfels shops in the picturesque Gruene Historic District, end your day in the great outdoors on Canyon Lake. While it can be difficult to narrow down the long list of fun outdoor family activities near me, an afternoon on Canyon Lake is near the top of our list! Whether you hope to splash in one of Texas' clearest lakes with the kiddos or need a breathtaking place to park your RV and spend the night, Canyon Lake has got you covered. There are even plenty of hiking and biking trails along the lake! To make this destination even better, it is only 30 minutes away from our zoo! 
Visit the Zoo For an Unforgettable Summer in Texas!
Animal World & Snake Farm Zoo is immensely proud to call New Braunfels home, and we hope this blog post inspires you to discover what makes this small city so special first hand! After seeing all our zoo has to offer, from free interactive animal shows every half hour to our exclusive summer Croc Shows, we highly recommend checking out the hidden gem that is New Braunfels. From walking the gorgeous streets of Gruene to picnicking underneath the historic Faust Street Bridge, New Braunfels is a great place to make memories that will last a lifetime. Join us this summer in Texas to share your love of New Braunfels and the amazing animals that call our zoo home! 
Follow us on TikTok to keep up with our incredible animal residents and the silly antics they get into on a daily basis!