Summer vacation in central Texas is only just beginning, but it doesn't take long before kiddos get bored and start asking about what you as a family are doing this summer. Here comes the tricky part: if you give them an underwhelming answer, they won't hide their disappointment and the fact that they would rather spend their summer in front of their TVs and iPads. Since there are so many wonderful things to do in New Braunfels this summer, it can be difficult to narrow this long list down. Well, we've got you covered! Here are some of our favorite things to do on hot summer days with the whole family!
Celebrate the beginning of summer with us at the Snake Farm! Book your tickets today!
Visit the Largest Snake Collection in Texas at Animal World & Snake Farm Zoo 
We may be a little biased, but one of our personal favorite things to do in New Braunfels is spend time with incredible animals from around the globe at Animal World & Snake Farm Zoo! In addition to boasting over 500 different animal species and interactive, informative animal shows every 30 minutes, our zoo offers plenty of experiences unique to central Texas. 
For instance, did you know that we are the only fully accredited zoo in Texas that offers up-close animal encounters with the world's smallest fox species, the fennec fox? If adorable foxes aren't your thing, we offer nine other encounter experiences with a diverse array of mammals and reptiles. Whether you can't wait to handle Hercules the 90 pound Burmese python during our EPIC giant snake encounter or meet Enzo the adorably laid back capybara, there is sure to be something for all kinds of animal lovers! Find out more about our outstanding animal encounter program here.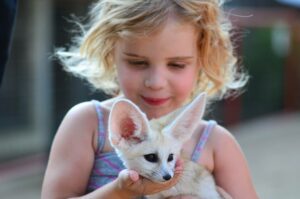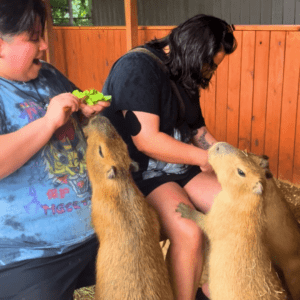 Another thing that makes our zoo unique is our annual summer Croc Shows! When you stop by the Snake Farm on Sundays at 3 o'croc, you can watch as Jarrod HAND FEEDS giant crocodilians! This heart-pounding show is sure to keep you and your whole family on the edge of your seats! Since this wild showcase is only available in the summer, make sure to plan your next Snake Farm visit around our famous Croc Shows!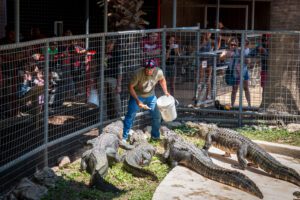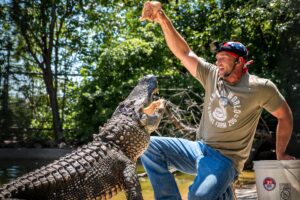 Take in All Downtown New Braunfels Has to Offer!
Since many of our guests are from other parts of Texas, they don't realize the sheer number of cool things you can do in New Braunfels. You may know New Braunfels for Schlitterbahn Waterpark, the breathtaking Natural Bridge Caverns, or even Animal World & Snake Farm Zoo, but our small city has much more to offer than these key attractions. Without further ado, here are a few spectacular things to do in New Braunfels!
The first New Braunfels attraction we would like to highlight is none other than the New Braunfels Railroad Museum! Interactive museums like this one sneakily inspire your kids to keep learning during the summer months. As its name suggests, the New Braunfels Railroad Museum showcases a visual history of railroads that ran through New Braunfels during the golden age of railroading. During your visit, you can even see trains in action since the museum is fittingly located right next to a railroad track where over 30 trains pass by every day! The museum also offers Kids Fun Days twice a month, making it one of our favorite things to do in New Braunfels with kids! 
Another great place to visit in New Braunfels after getting up close and personal with all kinds of Snake Farm Zoo animals is Naegelin's Bakery. The bakery is a New Braunfels institution that has been around for 155 years, and is perhaps better known as Texas' oldest bakery! Naegelin's has remained a fixture of downtown New Braunfels, and continues to hold a special place in locals' hearts by sticking to what put them on the map: authentic German pastries like crispy strudel and their popular German pretzels. Discover a delicious piece of New Braunfels history by indulging in a sweet pastry at Naegelin's!
Great Outdoor Family Activities Near Me to Get Your Kids Out of the House this Summer
Are you looking for fun outdoor family activities near me to avoid spending your summer indoors? Well, we have plenty of suggestions for you! Here are some of our favorite things to do in New Braunfels with the whole family!
This first option may verge on the touristy side, but it is an undeniably thrilling way to discover what makes New Braunfels unique. After befriending charismatic Snake Farm Zoo animals like Joe the fennec fox and Bilbo the otter, keep the excitement going by tubing on the Comal River! Affectionately called the "longest shortest river in the world" by locals, the Comal River runs entirely within the city limits of New Braunfels and is one of the city's most beloved tourist attractions. While floating along the river, visitors can expect to leisurely see the sights of downtown New Braunfels, picturesque views, and will eventually end up on the Guadalupe River.
One of our favorite outdoor, downtown New Braunfels events that is fun for all ages is Play at the Platz at downtown New Braunfels' historic Market Plaza! During this summer-exclusive event, families can enjoy live music, play board games, and partake in delicious eats from local food trucks. Since this event occurs on the second Sunday of each summer month, you can choose the date that works for you. Unwind at the tail end of your busy weekend in New Braunfels at this family-friendly event!
Visit the Zoo to Make This Summer in Texas Unforgettable!
Your kiddos may be out of school for the summer, but you can still encourage them to learn about the wonderful animals that call our planet home during your summer visit to the Zoo. From interactive and educational animal shows every 30 minutes to our extensive animal encounter program, there is sure to be something for everyone! Whether you are driving through New Braunfels and need a fun pit stop or heard about the Snake Farm from the eponymous Ray Wylie Hubbard song, we can't wait to see you and your loved ones this summer in Texas!
Follow us on TikTok to keep up with our incredible animal residents and the silly antics they get into on a daily basis!