Are you looking for a fun-filled, unique way to commemorate Spring Break 2023? If so, you've come to the right place! Here at Animal World and Snake Farm Zoo, we will be celebrating Spring Break in style through a wild animal party like no other. From fun and educational animal shows to brand new animal encounters with some of our amazing animal ambassadors, our Spring Break event is sure to be the perfect way for animal lovers to destress and unwind! Our incredible animal residents can't wait to party with you and your friends when you celebrate Spring Break in New Braunfels!
Join us for our wild Spring Break celebration from Saturday, March 11 to Sunday, March 26. Reserve your tickets to this event while supplies last!    
Make This Spring Break Your Wildest Adventure Yet!
Over the past few years, our zoo's Spring Break event has become an amazing way for guests to party hard with their favorite animal ambassadors, and this year's celebration will be no exception! Before we unveil the exciting new animal interactions that you can look forward to this year, let's reminisce on the most thrilling additions that we revealed during our most recent Spring Break event. During our 2021 celebration, we introduced guests to an adorable Grant's zebra foal named Kaya! As a zooborn, the endearing Kaya was always entranced by the world around her, and couldn't wait to explore every inch of her enclosure with her mom Kumani. In addition to commemorating this exciting new addition to the Zoo's constantly growing family, we also used this event as an opportunity to unveil our recently renovated gift shop and new merchandise! This presented the perfect opportunity for guests to stop by our gift shop to purchase the perfect Snake Farm Zoo memento. 
The first major announcement pertaining to our wild Spring Break in New Braunfels is that we will be offering amazing animal shows every half hour in celebration of the warmer temperatures ahead! Our fun-filled, interactive animal shows act as the perfect opportunity for guests to learn about our animals while having fun. Because of this, we couldn't be more excited to return to showcasing our phenomenal animal residents in animal shows every half hour! Keep an eye out for our updated show schedule on our website so you can make your next trip to the Zoo your wildest adventure yet!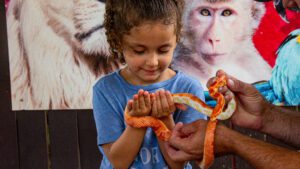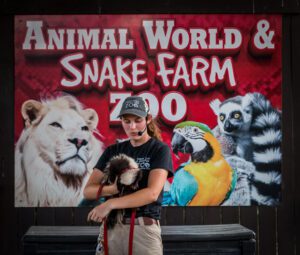 Celebrate Spring Break in San Antonio With These Amazing New Animal Encounters!
In addition to offering informative animal shows every half hour, we will also be unveiling several new animal encounter experiences to celebrate Spring Break in San Antonio! The first of these encounters will highlight the unique pancake tortoise. As their name implies, the pancake tortoise is known for its unusually thin, flat shell. However, most people are surprised to learn that the pancake tortoise's atypical shell allows for quick movement— making them one of the fastest of the notoriously slow species. Another fun fact about the pancake tortoise is that they have pretty remarkable survival instincts! When hiding themselves from predators in the wild, the pancake tortoise will wedge itself in between crevices (or gaps between rocks) and puff up its body so it can't be pulled out. These little guys can't wait to meet you during Spring Break 2023!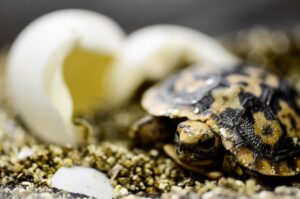 Another new animal encounter we are thrilled to introduce during Spring Break in New Braunfels will feature our incredible dromedary camels! During this experience, guests will get the chance to feed our camels their favorite snacks while learning all kinds of fun facts about them. For instance, did you know that camels are known as "ships of the desert"? This nickname came about because camels are able to store plenty of fat and water in their bodies to use when they need it most. This incredible ability makes camels uniquely suited for their harsh environment. One interesting fact about camels that surprises many of our guests is that their humps aren't filled with water. Although it is widely believed that camels store water in their distinct humps, this is actually where they store fat, which they can live off of for weeks or even months! Swing by the Zoo during Spring Break San Antonio 2023 for some of the wildest adventure encounters imaginable!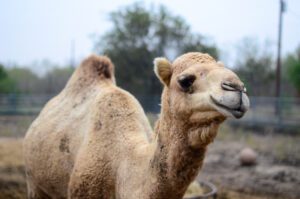 Amazing Enrichment Activities and Even More Funny Animal Content!
Since Spring Break in San Antonio is right around the corner, we genuinely hope to see you and your friends at our long-awaited Spring Break event. Whether you have a soft spot for furry critters like fennec foxes and river otters or are a reptile lover who can't wait to experience our newest animal encounters, an unforgettable adventure awaits your next visit to the Zoo! If you still aren't convinced to swing by our Spring Break celebration, here is a sampling of the hilarious, fun content you will see first-hand during your unforgettable Spring Break San Antonio 2023 zoo visit! 
Another fun-filled aspect of our zoo's Spring Break celebration that you can look forward to are the various different enrichment activities for guests and animal residents alike! Besides our engaging animal shows, another popular form of enrichment that we offer at the Zoo is feeding our amazing animal residents. If you have never hand-fed a zoo animal before, it can be a once-in-a-lifetime opportunity to get up close and personal with a remarkable animal from a different region of the world. Just as our animals love being fed and petted by animal-loving guests like yourself, you are sure to have a ball as you feed and pet our animals! You can feed all kinds of animals at our zoo, from our free-roaming peacocks to our majestic, larger-than-life bison at our new and improved Bison Feeding show. Make this upcoming Spring Break in New Braunfels one for the books by feeding our animals live mealworm feed and other kinds of feed available at our zoo!
Swing by Animal World & Snake Farm Zoo For a Spring Break in Texas Like No Other!
Celebrate Spring Break in Texas in the wildest way imaginable at Animal World and Snake Farm Zoo! Since an impressive array of animals call our zoo home, our Spring Break celebration is sure to be the perfect way for all kinds of animal lovers to unwind and get in touch with their wild sides. We hope you join us this Spring Break for fun-packed animal shows every half hour and our several brand new animal encounters!
Book an animal encounter to meet our incredible animal ambassadors in person!