It is with heavy hearts that our staff said goodbye to Sam the American Alligator on August 21, 2020. 
Sam came to Animal World & Snake Farm Zoo shortly after its opening in 1967, making him the resident who had lived at the Zoo the very longest. Before residing at the Zoo, many folks recognized him as the impressively large American Alligator who had been on display at Aquarena Springs in the 1950s. Although we didn't have an exact age on Sam, we estimate he was over 80 years old!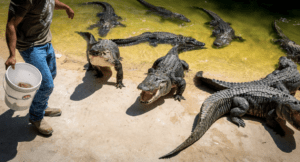 Sam was the largest alligator in our collection at approximately 12.5 feet and weighing over 750 pounds. For most of his time here, he was considered the "alpha male" of our pond, which meant he had breeding rights to all the ladies. He was extremely aggressive when it came to protecting his girls and his territory, but he couldn't have been more gentle towards his caretakers. Staff member Jarrod Forthman, who's worked with Sam for the past 16 years, said, "I loved doing Croc Shows with Sam because he would always come out of the water and pose for the guests. Because of his gentle nature, I could always count on walking right up to him and using him to explain alligator anatomy."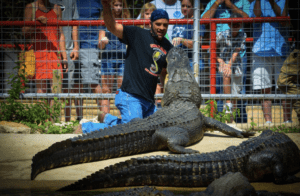 Sam was also one of our most vocal alligators. During breeding season, American alligators produce a loud, low-pitched noise called a "bellow." These vocalizations communicate the alligator's body size to other alligators. This is one of the ways they compete for breeding rights and territory disputes. Sam was always very vocal during breeding season. Instead of coming out to eat during the Croc Shows, he would just come up to the edge of the pond and hiss really loud letting everyone know that he was the alpha male, this was his pond, and these were his girls. 
Sam was the alpha male of the pond up until about 4 years ago when his advanced age started to show. Even after Sam was dethroned as the alpha, he still loved stealing the show during the weekly alligator feedings. Sam would proudly march up to the keeper doing the feeding, strike a pose, open his mouth politely, and wait for his favorite treat, chicken.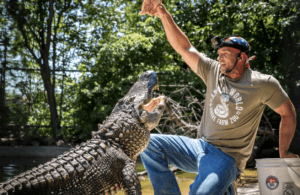 While Sam will be sorely missed here at Animal World & Snake Farm Zoo, we are very grateful for the memories he provided us and our guests. We will cherish them forever.
Our last Croc Show of the season on September 6th at 3pm will be dedicated to Sam. Join us for the show and help us celebrate his memory!