We are heartbroken to announce the passing of Angel the mountain lion this past week. Angel was 11 years old and had lived at Animal World & Snake Farm Zoo nearly her entire life with her enclosure mates, Sarah and Edward. She grew up beside Edward, who was like a brother to her and preceded her in passing, and Sarah, her sister from the same litter. In recent years, Angel's age had begun to catch up with her in the form of kidney disease. Mountain lions are prone to kidney issues later in life, and we worked alongside our vet to keep her comfortable and living life to the fullest. Ultimately, to avoid poor quality of life, the vet recommended euthanization.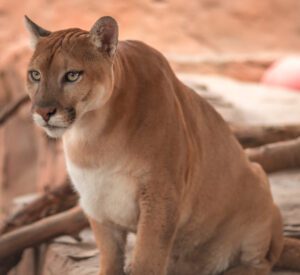 Of the group of mountain lions that we have had, Angel was the most affectionate and loving to both her exhibit mates and caretakers. Angel's sweet disposition became clear to keepers as soon as she and Sarah arrived at the Zoo. The mountain lion sisters were acquired at an early age because their mother was not providing them with the necessary sustenance. From then on, our team took on this motherly role for the cubs. Angel grew up enjoying the attention she received from caretakers and guests alike. Angel never hesitated to vocalize her desire for human affection. Her tendency to excitedly greet keepers in the morning made it practically impossible not to love her in return.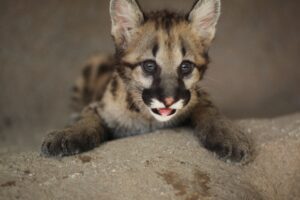 Angel showed much love toward her sister, Sarah throughout their time together at the Zoo. Angel was often seen grooming her sister as they laid out in their enclosure catching some sunny rays. Angel was also frequently spotted resting at her favorite peak of her enclosure. From the very top of this rock structure, Angel could keep an eye on all the Zoo's happenings. The Zoo's deputy director, Jarrod, recalls his favorite memories of Angel: "I specifically remember the day I learned she was no longer a cub I was raising but rather a large carnivore meant to be enjoyed from opposite sides of the enclosure. I was walking at the base of the rock work of their newly completed exhibit when all 140 pounds of Angel leapt from 6 feet above onto my back, knocking me to the ground! Her cuddly, playful behavior on full display that day was a much needed moment that gained my respect as well as changed the daily husbandry routine. Angel was a big girl now!"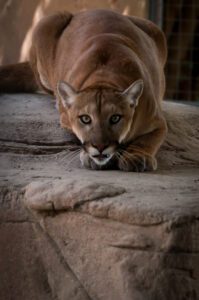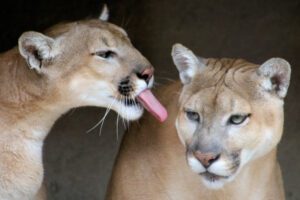 Angel was a crowd-favorite during our daily Carnivore Feeding show. During these shows, our keepers could really have fun with Angel, who had an unmatched love of special treats like ostrich eggs and chicken drumsticks. While she never turned other foods down, Angel never failed to get excited whenever a keeper offered her these extra special treats.
Angel was also a dynamic presence during our enrichment events. She was a sucker for tearing paper off of gift-wrapped boxes, and couldn't contain her excitement when it came time to do this during our Christmas event.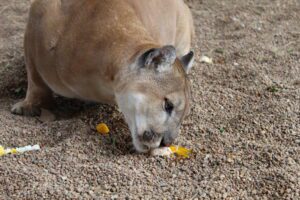 Angel's legacy will live on through the multiple litters of cubs that she has brought into the world. Her genetic contribution has left a huge impact on the conservation status of the mountain lion population. Her offspring can be found in zoos across the country continuing the conservation work that Angel started.
During this time of healing and adjustment, our staff will be providing extra attention to Sarah. Angel will be dearly missed, and we couldn't be more grateful for the many memories she has given our staff and guests over the years.