Here at Animal World & Snake Farm Zoo, it's almost impossible to run out of fun things to do and places to explore! From having the option to feed your new friends in our interactive petting zoo to attending a handful of our riveting animal shows, we are sure to have the perfect experience for all animal lovers. If you're looking for a relaxing place to take a break from the crazy heat during your next visit, we highly recommend Two Rivers Mining Co., our very own gemstone mine! Keep reading to find out what makes this hot mining spot unique!

Reserve your tickets now to make memories with our amazing animals and staff!
Collect a Rainbow of Gemstones Under Our Shaded Viewing Node
Whether you've lived in Texas your whole life or are just getting acclimated to our great state, you know how important it is to take regular breaks from the intense heat— especially during the summer months. Here at the Snake Farm, the fun doesn't have to stop when you need a break from the heat! When you swing by Two Rivers Mining Co., you can experience all we have to offer from the shaded deck of our gemstone mine. 
And that's not all; we also offer plenty of fun-filled mining packages perfect for miners of all ages! From gemstone bags to fossil bags and even a bonanza bucket packed with a rainbow of gemstones and crystals, every trip to Two Rivers Mining Co. is sure to be an unforgettable adventure perfect for the whole family!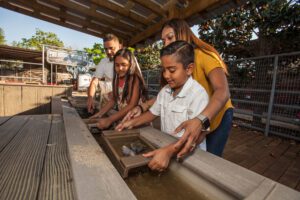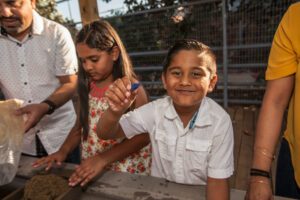 If you don't believe us, take it from Cindy, a local grandmother who has visited our zoo since she was a kid: "I've been visiting the Snake Farm for years with the whole family, and we always make a point of spending time at their mining company. I've seen plenty of other gemstone mines, but none of them compare to this one! This particular spot is special since you can see cute bison and other amazing animals as you pan for gemstones. To make it even better, Two Rivers Mining Co. never fails to bring huge smiles to my grandkids' faces!" 
Take Majestic Bison Pictures While Panning For Gorgeous Gems!
Something else that makes Two Rivers Mining Co. unique is that you can take stunning bison pictures as you pan for all kinds of gemstones and minerals! Here at Animal World & Snake Farm Zoo, we house four North American bison: Penny, Yellowstone, Glacier, and Gus. Interestingly enough, bison live in tight-knit matriarchal societies in the wild and at our zoo! In fact, Gus is the only male bison currently housed at the Zoo. Watch as these gentle giants get hand fed during our Bison Brunch show and graze on grasses in their exhibit from the comfort of our shaded gemstone mine!
In addition to an assortment of gemstone minerals, you can expect to pan for fossils, crystals, and shark teeth. If you love Natural Bridge Caverns' mining spot but wished you were surrounded by gorgeous animals to make the experience even more immersive, Two Rivers Mining Co. is the perfect mining spot for you! Besides being able to view our majestic bison, you are sure to see some of our friendly, free-roaming peacocks and chickens. When you swing by Two Rivers Mining Co., you are sure to come away with a rainbow of gemstones and memories that will last a lifetime!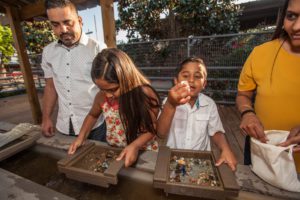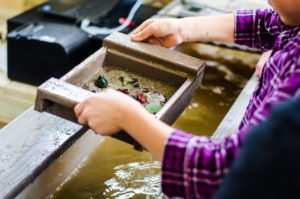 Visit Two Rivers Mining Co. for Fun Gem Mining Near Me
When you visit Two Rivers Mining Co. here at Animal World & Snake Farm Zoo, it will feel as if you've stepped into the Wild West. From the atmospheric, American frontier decor to the classic western music that brings your gemstone mine experience to life, we want guests to be immersed in another time during their mining adventure. If you're looking for unforgettable gem mining near me, look no further than Two Rivers Mining Co. at the Snake Farm! Since every mining bag contains gemstones and minerals, every miner is sure to come away with plenty of gems and bison pictures! 
Now that we've shared plenty of fun things to expect during your next trip to Two Rivers Mining Co., we wanted to talk more about what makes our very own mining company unique: all the animals you can see from the mining spot's perfect viewing node! For instance, you will have a great view of our bison, which are even more majestic than you could ever imagine. Here are a few gorgeous North American bison pictures to hold you over until you can see these magnificent creatures in person!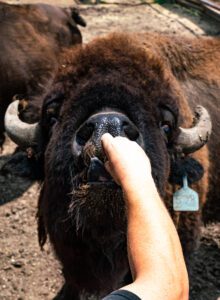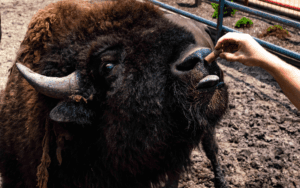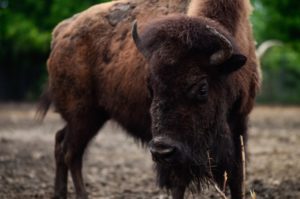 Swing by Two Rivers Mining Co. for Authentic Gem Mining in Texas
Besides providing top-notch animal care and ensuring our animals are always happy and healthy, another priority for us here at the Zoo is making sure our guests get the most out of their time with us! In addition to hosting interactive, entertaining animal shows and private animal encounters, we also encourage guests to stay a spell in our immersive mining company. As a hotspot for gem mining in Texas, we believe our gemstone mine stands out since it doubles as a great place to view our stunning bison. Whether your kids are budding geologists or you just want to make memories with loved ones as summer comes to a close, we highly recommend checking out Two Rivers Mining Co., our very own gemstone mine!
Follow us on TikTok for all the hilarious animal content you could ever ask for!