It can be difficult to find unique ways to celebrate the holiday season, but Texas' zoos have got you covered. From festive animal shows that showcase jolly animal residents to plenty of delicious enrichment opportunities, zoos can be surprisingly fun places to celebrate the holidays. Even though many of our guests consider Animal World and Snake Farm Zoo as the best zoo Texas has to offer, here are some other great zoos and events that serve as amazing ways to ring in the holiday season! Here is a list of the 6 festive holiday events we will be highlighting throughout this blog:
Animal World and Snake Farm Zoo's Christmas with the Critters

Holiday Lights on the River Walk at the San Antonio River Walk

Natural Bridge Caverns' Christmas at the Caverns

SeaWorld San Antonio's Christmas Celebration

Houston Zoo's TXU Energy Presents Zoo Lights

San Antonio Zoo's San Antonio Zoo Lights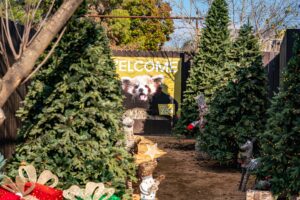 Reserve your tickets now to celebrate the holidays with our animal-loving staff!
Our Favorite Festive San Antonio Events
While these are countless ways that Texans can spend this upcoming holiday season, we hope you consider celebrating with us at Animal World and Snake Farm Zoo during our Christmas with the Critters event! Many of our guests consider our zoo the best zoo Texas has to offer, and our outstanding holiday event is sure to reflect this sentiment. Join us from December 17th to January 6th for a holiday celebration like no other. Come marvel in the winter wonderland our animal-loving staff have specially created for the occasion!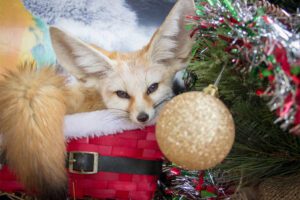 Even though our zoo is based in New Braunfels, San Antonio and the several festive events they annually hold during the holiday season are less than an hour away! Because of this, many of our guests and zookeepers alike make the trek each winter to celebrate in style. Since seeing a comprehensive list of all the holiday events the city boasts each year can be daunting, here are a few of our personal favorites. One festive event that is perfect for Texas families is viewing the holiday lights on the San Antonio River Walk! Besides being a great free event, Holiday Lights on the River Walk is optimal for busy Texas families since these lights are up in all their festive glory from Friday, November 25 to Monday, January 3. This gives locals and visitors alike ample time to see this jolly display!
Another notable festive event is Natural Bridge Caverns' own Christmas at the Caverns event, which is being held across 11 evenings in December leading up to Christmas Eve. In addition to boasting a unique caroling experience within Texas' largest known underground cavern, the event features a 30-foot Christmas tree, live music, and the opportunity to indulge in s'mores over a roaring fire. Natural Bridge Caverns will also be partnering with the New Braunfels Food Bank at this event, and will be encouraging guests to donate to the cause and/or bring in a non-perishable food item to add to the community food drive. In doing so, you are sure to make a difference during this upcoming season of giving. 
San Antonio Zoo Events To Get You In The Jolly Spirit!
We may be a little biased, but one of our favorite festive San Antonio zoo events is our very own Christmas with the Critters event! Even though our New Braunfels zoo can be a bit of a drive for our San Antonio guests, we highly encourage you to make a jolly weekend road trip out of it. At our highly anticipated Christmas event, guests can expect festive animal shows like our adorable Santa's Little Helpers show and our interactive Fa La La La Lemur show. We will also be offering fun enrichment activities for our animal residents and guests alike! While our animals partake in yummy Monkey Mochas and play with Christmas trees, our guests can enjoy hot chocolate, warm apple cider, and s'mores beside a roaring campfire. Such fun-filled festivities encourage our guests to consider our zoo's holiday celebration as the best zoo Texas party!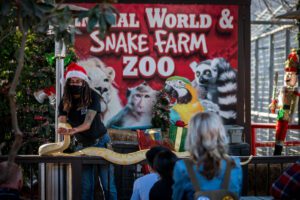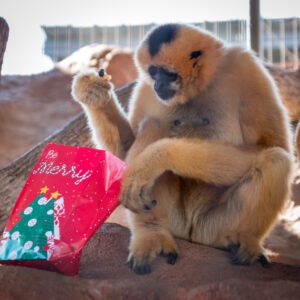 Even though White Christmases are incredibly rare across southern states like Texas, the at-times brisk San Antonio weather inspires locals who have never seen snow in person to breathe in the cool winter air whenever they can. Because of this, outdoor holiday parties can be great ways to ring in the cooler season! Another of our favorite festive outdoor animal celebrations is SeaWorld San Antonio's Christmas Celebration. Besides boasting the largest Christmas light display in Texas, guests can enjoy fireside s'mores and watch jolly animal shows. Since aquatic animal lovers across Texas consider SeaWorld San Antonio the best zoo in the world, this celebration is sure to get anyone in the jolly spirit.
Fun, Festive Offerings At Houston Zoo And San Antonio Zoo
Now that we have highlighted the best zoo Texas holiday celebrations across central and south Texas, we will now be discussing amazing festive events across southeast Texas. Since many of our out of town guests make the trek for our unique animal Christmas party, we want to return the favor and suggest great ways for them to ring in the holiday season closer to home. For animal lovers who are local to the Houston area, we recommend TXU Energy Presents Zoo Lights at Houston Zoo. Since our Christmas event takes place near the end of the year, this eight-week long Houston event is the perfect way to get in the holiday spirit before joining AWSFZ for our annual Christmas with the Critters event! Houston Zoo's Christmas celebration will feature festive holiday lights and decorations that transform the Zoo into a marvelous winter wonderland. Guests can also expect to take a leisurely stroll under a colorful holiday light tunnel and commemorate the occasion at a wintery photo-op area. 
For guests local to southeast Texas who celebrate the holiday season with us, the considerable trek to New Braunfels is the perfect opportunity to take in the sights while discovering new winter traditions. In fact, many of our guests from all over Texas also make sure to visit the San Antonio Zoo Lights event, which is held annually at San Antonio Zoo. At this event, guests can expect dazzling holiday lights, festive snacks, and delightfully jolly parades. Since San Antonio weather is growing chillier by the day, indulging in this event's abounding festive offerings while being bundled up in a cozy winter coat is sure to get you and your family in the holiday spirit!
Celebrate Texas At Christmas Time With Our Jolly Animal Residents!
Now that we have shared all kinds of fun, festive ways you can ring in this holiday season, we want to remind you of our personal favorite way to appreciate the beauty of Texas at Christmas time: attending our Christmas with the Critters event! We will be celebrating the holidays with delicious enrichment opportunities for our animal residents and guests alike, and showcasing our amazing animals in festive animal shows that even Santa Claus would approve of! Join our animal-loving staff at Animal World and Snake Farm Zoo for a holiday event like no OTTER!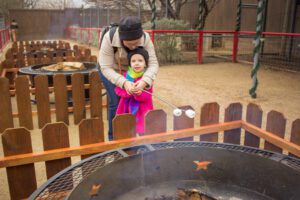 Make sure to RSVP to our festive Christmas with the Critters event, which will be held from December 17th to January 6th!