Here at Animal World & Snake Farm Zoo, we proudly offer several unique animal encounter experiences that encourage guests to become acquainted with our animals in a whole new way. Because of this, we pounce at the opportunity to introduce guests to brand new encounter experiences like our highly requested dromedary camel feeding! During this one-of-a-kind camel feeding experience, you can meet our camels up close and personal as you feed them some of their favorite treats. Throughout this blog, we'll be sharing some of our favorite camel facts and telling you all about the camels that call our zoo home!
Our exclusive camel feedings are filling up fast. Book yours today to meet these majestic beauties in person!
What Does a Camel Eat? Plenty of Yummy Treats at the Snake Farm!
Before diving into some pretty incredible dromedary camel facts, we wanted to introduce you to the wonderful camels housed at the Snake Farm! If you recognize this first camel, it's probably because he's the face of our YouTube channel. Of course, we are talking about none other than Klaus the camel. If you couldn't guess from his active social media presence, Klaus LOVES being the center of attention. He is also the oldest of our camels, and will be turning 11 this September!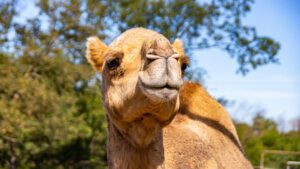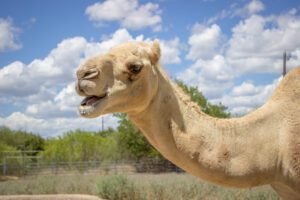 Next up on our charming camel lineup are Katerina and Kahla, two of Klaus' younger sisters. We are introducing these two camel ladies together since they both came to the Zoo as babies in 2019, and have spent their whole lives together. Swing by our camel exhibit to see how close these camel BFFs continue to be! Last but certainly not least is Kamilla, the youngest camel housed at our zoo. After arriving at the Zoo as a baby in 2021, we offered exclusive bottle-feeding encounters with this sassy little lady. Because of this, Kamilla is no stranger to being the center of attention, and can't wait to see you again now that she's all grown up!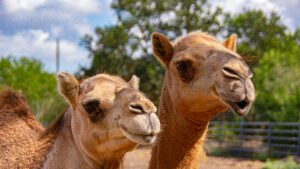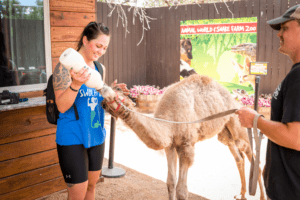 If you've always asked yourself, "What does a camel eat?," we encourage you to find out first hand during our interactive camel feeding encounters here at the Snake Farm! You are sure to come away with a satisfying answer, and a deepened appreciation of these beautiful ships of the desert!
Learn All About Camel Teeth Before You See Them in Action
Since we encourage you to feed our camels during our interactive dromedary camel feeding encounter, here are some cool facts about camel teeth! For starters, did you know that camels don't have all 34 of their adult teeth until they're 7 years old? At six months, baby camels grow what are commonly referred to as "milk teeth," which act as their first deciduous set of teeth. As they mature, these teeth are replaced by stronger, permanent teeth. Because of this, a camel's teeth can be a good indicator of their age! The next fascinating fact we'll be sharing with you will answer the question, "What does a camel eat?" As herbivores, camels primarily eat grasses, grains, bushes, and other plants. It should also be noted that camels are not strict herbivores; they can become omnivores if necessary, and occasionally resort to eating carrion and fish when vegetation is scarce.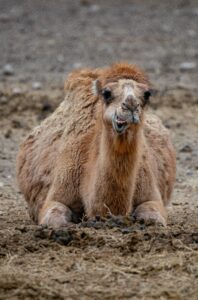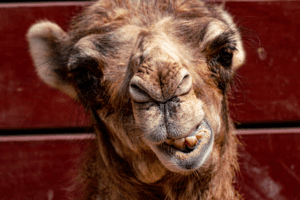 The next fact we'll be sharing in this blog will answer the seemingly straightforward question, "Where do camels live?" While many people think that all camels live in harsh, arid regions in Africa, dromedary camels are also fairly common in the Middle East and western and central Asia! There is even a local dromedary camel population in Australia, where they are considered "feral" animals. We hope this sampling of interesting dromedary camel facts encourages you to meet our spunky camels in person during your private camel encounter at the Snake Farm!
Have a Hump Day Camel Celebration During Your Own Camel Feeding Encounter!
Now that we've shared some cool camel teeth facts and have answered the question, "Where do camels live?," it's finally time to talk a bit more about what you can expect during your very own dromedary camel encounter! Besides getting to meet our charismatic camel family up close and personal, you will also be able to hand feed our camels some of their favorite snacks. Some of our camels' favorite treats include romaine lettuce and carrots! Since our dromedary camels aren't strangers to being the center of attention, they will come right up to you when they see you with their favorite treats. In fact, Klaus is known to eat right out of your hand while giving you little, camel-sized kisses!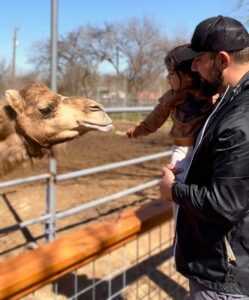 What better way to get past a mid-week slump than by holding an unforgettable hump day camel celebration at the Snake Farm? Watch in awe as these gentle giants nibble on treats from the palm of your hand and flash you an endearing smile with their oversized camel teeth! Whether you've been visiting us since Klaus the camel was a baby or were one of the few lucky guests that bottle-fed Kamilla back in 2021, we hope to see you during our new and improved camel feeding encounter soon!
Make This Summer in Texas Unforgettable By Meeting Our Stunning Camels in Person
Since there is no better way to connect with our animal residents than by spending quality time with them and their zookeeper, we highly recommend this encounter for all kinds of mammal lovers! Whether you need to know how curly a camel's eyelashes look in person or want to take a cute selfie with our camels to remember your amazing summer in Texas, you are sure to have the time of your life during your private camel feeding encounter! 
Follow us on Instagram to keep up with the adorable antics our animals get up to on a regular basis!