Although it might not feel like it, fall is quickly approaching! While this can be distressing for those of us who savor the summer sun, staple San Antonio fall events provide an undeniable silver lining. Whether you prefer to visit pumpkin patches to personally pick a future spooky jack o'lantern or want to support local businesses like Animal World and Snake Farm Zoo, this fall is shaping up to be truly one of a kind. Make sure to check out the list below for the fun Halloween festivities that will be discussed throughout this blog:
Animal World and Snake Farm Zoo's Howl-O-Ween Extravaganza

Carvana's annual Trunk-or-Treat

Hideaway Creek's Halloween Family Dance Party & Costume Contest

The Now You See Me Foundation's Monster Dash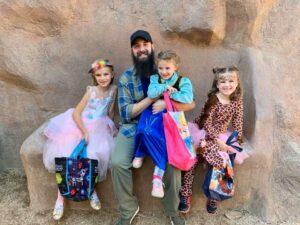 During our Halloween event, children 12 and under who visit the Zoo in their Halloween costumes get in for FREE! Fill out this survey to get in on this amazing deal.
Spooktacular Weather: Predictions for October Weather in San Antonio  
While Texas heat can be relatively bearable in areas with lower humidity like El Paso, you are far more liable to feel the heat in areas with higher humidity like Dallas and San Antonio. Because of this, October weather in San Antonio tends to be pretty muggy during the daytime. However, there is anticipated to be a considerable drop in temperature from the early fall month of September to the mid-fall month of October. In San Antonio, a notable temperature dip will likely occur in the second full week of October, from average temperature lows in the high 60s and low 70s to start the month to lows in the low 60s and high 50s! In addition to this upcoming drop in temperature, here are the first of our listed San Antonio fall events that are sure to get you in a cozy, autumnal mood!
San Antonio Halloween Events You Won't Want to Miss Out On!
There are plenty of spooktacular San Antonio October events to look forward to, but sometimes the sheer quantity can be quite overwhelming. In hopes of preventing this while ensuring you don't experience any unnecessary FOMO, here are a few event suggestions that may help calm these anxieties. One Halloween event that animal lovers will enjoy is Animal World and Snake Farm Zoo's 7th annual Howl-O-Ween Extravaganza. In addition to Halloween-themed interactive shows, guests will have many opportunities to pose with our creepiest critters while their kiddos fill up their trick or treat baskets with candy! 
Other kid-friendly San Antonio Halloween events include Carvana's Annual Trunk-or-Treat event and Hideaway Creek's Halloween Family Dance Party & Costume Contest. While the Trunk-or-Treat event may be more suitable for families with older children since it is up to attendees to find their own fun, Hideaway Creek's Halloween event is sure to be fun for the whole family! In addition to a costume contest that awards the best-dressed family with $100, there will be plenty of food vendors and a complimentary balloon artist for all who attend.
Although October weather in San Antonio is anticipated to be balmy for much of the month, the countless Halloween events Texas has to offer will hopefully get you in the fall mood before it is expected to cool off. Even though cooler weather is a defining aspect of the autumn, such weather is certainly more fleeting across areas in the Deep South. Regardless, just because the weather in San Antonio in October isn't as chilly as Texan fall lovers hope, doesn't mean that fall festivities should be limited in any way. Consider branching out and discovering new autumn traditions to add to your October line up!
Buy your tickets now to ensure your spot at the Zoo's famous Halloween event!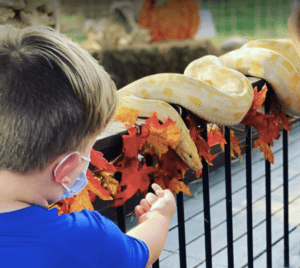 Less Conventional Halloween Events San Antonio Has to Offer That are Just as Amazing as the Quintessential Ones!
It can be easy for autumn lovers to fall into comfortable routines of ringing in this season of warm colors and brittle leaves. Because of this, many unconventional Halloween events San Antonio side are overlooked in favor of fall classics like pumpkin patches and cider mills. 
As mentioned earlier, the Zoo's annual Halloween celebration is definitely considered a less conventional Halloween event, but a spectacular event nonetheless! This event boasts over a dozen stations where kiddos can trick or treat while learning about the wide variety of animal species that call the Zoo home. Guests can also expect plenty of fun decorations that can only be seen during the Halloween season, a face painter whose services are included with admission, and a creepy crawly station where you can face your fears by getting up close and personal with some of our insidious insects! With all these fun festivities planned (and more!), consider stopping by the Zoo as part of your seasonal celebrations!
Fill out this survey to receive a free entry voucher for your children, 12 and under, who come to our event wearing a costume!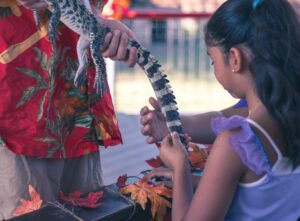 Since weather in San Antonio in October will begin to cool down toward the middle of the month, fall lovers will surely want to breathe in as much of this fresh autumnal air as they can! To encourage this, here are a few more unconventional, outdoor San Antonio Halloween events that allow guests to take in the changing of the seasons. In addition to the Zoo's outdoor Halloween event, another spooktacular option is the Now You See Me Foundation's annual Monster Dash! While challenging themselves physically, participants can take in the lovely fall sights of San Antonio's Eisenhower Park. To make the event even better, there are different options that cater to anyone who wants to participate—from 10K dashes to 1-mile walks/runs and even 5K wheelchair dashes for wheelchair users. These unconventional San Antonio Halloween activities hope to encourage participants to take in the refreshing fall breeze and appreciate the smaller things in life.
Join Us For Our 7th Annual Howl-O-Ween Extravaganza Along With Other Halloween Parties in San Antonio!
Now that we have covered some of the fun-filled Halloween festivities San Antonio has to offer, we hope that this not only encourages you to incorporate new activities into your fall routine but to also branch out and try new things that may not instantly scream fall. While there are countless Halloween parties in San Antonio to choose from, consider joining our kind, animal-loving staff as they celebrate the Zoo's 7th annual Halloween event! We hope to see you there!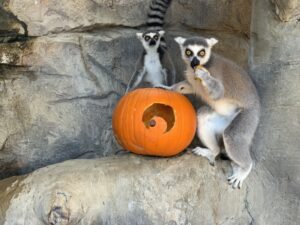 Secure your tickets before they sell out here to make sure you ring in this spooky season with us at the Zoo!