Did you know that April is Autism Awareness Month? For the past four years, Animal World & Snake Farm Zoo has teamed up with the H.E.L.P. Autism group to host an Autism Awareness event. This event is full of fun activities like scavenger hunts, bingo, prizes, snacks, desserts, and of course, animal encounters!
Our annual Autism Awareness Event is a chance for people with Autism and their families and friends to come together for a fun and relaxing day. We had a chance to sit down with some of the participants of this event and we asked them about the event.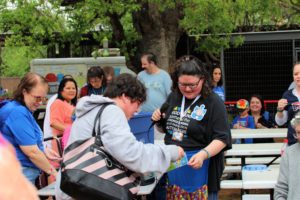 First, meet Alicia! She is the organizer of the whole event. Without her none of this would have been possible. She is a huge part of the H.E.L.P. Autism group, which she describes as "a group of parents here in New Braunfels who organize fundraisers for a chance to reward our loved ones with Autism." They put together prizes, goodie bags and events like these! Although the group is just in New Braunfels currently, they hope to expand the group to other families outside of this area. Right now they have approximately 174 members. You can even check them out on Facebook!
Alicia says, "We definitely want to make the event bigger as years go on. I cannot thank you enough for allowing us to celebrate our loved ones."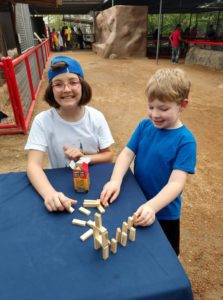 Next, we asked 10-year-old Jade, one of the participants of the event, to tell us a little about her favorite parts of the day.
"Today was great! I got to pet an alligator. My favorite animals are the squirrel monkeys! My favorite activity was pulling the tickets for door prizes. I won Chutes and Ladders."
Jade has been to Animal World & Snake Farm Zoo many times before, so she knew her way around the zoo pretty well. She used her knowledge of the Zoo to help some of the other attendees with the scavenger hunt.
"We had to find animals like parrots, bearded dragons, lions, and snakes."
Jade was also a big help when it came to planning the event. She was one of the first people there to help get everything set up. She also encouraged the other folks who were there (including her grandmother) to overcome their fears and pet the big Burmese Python.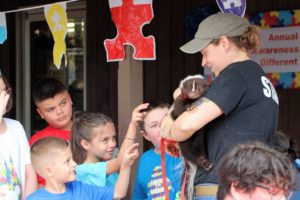 This event would not have been possible without the incredible volunteers like Tom, Micayla, and Kaylee. 
Tom, who drives in from Houston every year to help with the event, said his favorite part was "seeing everyone come out and having fun with each other. Nothing is better than watching a child's face light up when they meet a skunk for the first time."  
Micayla said, "When my mom asked me about volunteering I instantly wanted to do it. This is such an inspiring group."
It wasn't just the participants and volunteers who had a good time, the Animal World & Snake Farm Zoo staff did as well! Jesse from our Reptile Department loved introducing the group to Beans, the Burmese Python. "The best part of Autism Awareness Day was getting to be part of the pure and genuine excitement these folks feel the first time they meet a snake. Watching how proud they are of themselves afterwards is so incredibly rewarding."
Stay tuned for more details about next year's
Autism Awareness Day!