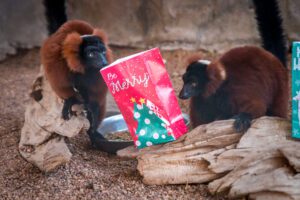 Come join us from December 17th to January 6th for our annual, fun-packed Christmas with the Critters event here at Animal World and Snake Farm Zoo! We will be boasting plenty of festive animal enrichment opportunities, holiday-themed animal shows, and free delicious wintery treats for kiddos— among countless other jolly festivities! 
Festive Enrichment For All!
For a better idea of what we mean by "festive enrichment," here are a few photos from past Christmas with the Critters events. As these pictures may imply, our animal-loving staff make our animals feel as special as they truly are through fun enrichment activities whenever the opportunity arises. From our mountain lions using Christmas trees as scratching posts to our primates indulging in Monkey Mochas, our animal residents annually look forward to getting in the holiday spirit! As mentioned previously, children who join us for our Christmas event can enjoy wintery treats like hot chocolate and s'mores beside a roaring campfire while partaking in our unique Christmas celebration!