Celebrate the holidays in the wildest way imaginable here at Animal World & Snake Farm Zoo! After you're finished opening presents, come watch our animals open theirs. Join us on December 29th and 30th, 2018 from 10am – 6pm for our first annual Christmas with the Critters event!
Holiday-Themed Shows

Be sure to check out our special Holiday Show schedule at the bottom of the page and plan your visit around the exciting, educational, and interactive shows! Throughout the day we'll be Croc'n Around the Christmas Tree with Old Greg the Morelet's Crocodile, singing "Fa La La La Lemur" with Tilly the Brown Lemur, having a Christmas Like no Otter, and more!

Christmas Enrichment

Have you ever seen a mountain lion play with a Christmas Tree? Or a Red Ruffed Lemur sip on a Monkey Mocha? How about a Jaguar opening wrapped gifts? Now's your chance! While you've been out shopping for loved ones on your list, our zookeepers have been busy planning gifts for our critters! Join us as they investigate these fun new treats and toys.

Warm Yummy Treats

Our animals aren't the only ones getting special treats during our holiday event. Hot chocolate, warm apple cider, and s'mores will be available to zoo guests as well! Warm up with a hot beverage, or stand next to a fire pit while roasting marshmallows for s'mores. Gluten-free s'mores kits will be available upon request.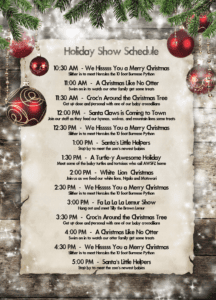 For the most up-to-date information on the Christmas with the Critters, RSVP to our event on Facebook!
Frequently Asked Questions:
Q: What is the cost of admission to Animal World & Snake Farm Zoo for this event?
A: The cost of admission is $12.75 (plus tax) for individuals 13 years of age and older, $9.75 (plus tax) for children 3-12 years of age, and little ones 2 & under are free! We also have discounts available for Military (with ID) and Seniors (Age 55 & older).
Q: Will Private Animal Encounters be available during the Christmas with the Critters event?
A: Yes! Please be sure to schedule your Private Encounter at least 24 hours in advance. To reserve your encounter or for more information, visit our Animal Encounters page.
Q: Will the animals be outside if it's cold during the event?
A: Absolutely. Many of our animals (like the wolves and mountain lions), love the brisk winter weather! If you'd like to learn more about how we prepare our critters for cold weather and which animals you can expect to see out on cooler days, click here.